Louisiana Creole Fiddle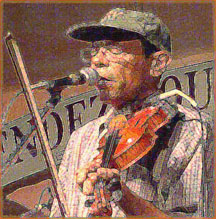 A method book with 14 classic tunes, published by Mel Bay.
DVD contents:
Demonstrations of the songs
Explanation of the book's figures
Score files - change the speed and/or watch the scores with the Finale Notepad. These scores have more complete guitar parts than those printed in the book.
Score playback - listen to the scores played literally three ways: as score files, as MIDI files, or mp3 audio
Radio interview (mp3) on the Lacouture Lagniappe program with Marce Lacouture on KRVS radio.
Appearances by Canray Fontenot, Bébé Carrière, Carlton & Preston Frank, Ed Poullard, Lawrence Ardoin, Jeffrey Broussard, Cedric Watson, and D'Jalma Garnier.
D'Jalma Garnier links
Photos by David Simpson (LSUE Eunice) and Jiro Hatano
©2009 Mel Bay Publications, Inc.