Excerpts from Robert Willey's application
for promotion to Professor of Music
An Index volume and six binders were submitted as part of the application. Links to samples of the material and additional examples of student work are available here.
Index
---

Overview Volume
Index to support volumes
Letters of support
Daphne Leong, Associate Professor, University of Colorado Boulder
John Snyder, Professor, Loyola University, New Orleans
Christopher Dobrian, Professor of Music, University of California, Irvine

---
Support Volume 1 - Teaching
Teaching Evaluations
Advising
Recipient of 2011 Excellence in Academic Advising Award
Innovations in Teaching
---
Support Volume 2 - Research
Recipient, Ruth Stodghill Girard/BORSF professorship in Music II.
Recording and Preserving Creole and Cajun Culture of South Louisiana
Feufollet: En Couleur

An instructional improvement grant allowed the recording classes to spend a day at Dockside Studio, recording two songs with the Cajun band Feufollet. One of the tracks from the session was included in their album "En Couleurs", which was nominated for a Grammy for Best Cajun/Creole album.

Creole Fiddle

Louisiana Creole Fiddle. Co-wrote book with D'Jalma Garnier III, and produced accompanying DVD. Mel Bay Publications, 2009.

From La La to Zydeco: Creole and Zydeco Music from Louisiana
DVD published by the Center for Louisiana Studies (2005).
Brazilian Music
Brazilian Piano, co-writier of 90-page book with Alfredo Cardim, produced companion CD, published by Hal Leonard, Inc., 2010.

Analysis of the Harmonic Progressions of the Music of Antônio Carlos ("Tom" Jobim).
The Use of Video Direction as an Application of the Study of Music Theory
Conlon Nancarrow's Music, and the Synthesis of His Player Piano Studie
"Instruments, Electronic ", entry in The Encyclopedia of Latin Music, Greenwood Publishing, under contract (forthcoming, 2014).
"Creating an Enhanced Podcast Episode". Poster presented at ATMI/CMS national conference, Salt Lake City, Utah (2007).
"Don Buchla", entry in Encyclopedia of Recorded Sound in the United States, 2nd edition.
"Pro Tools", entry in Encyclopedia of Recorded Sound in the United States, 2nd edition.
"Technology Teaching Facility: Redesigning the Music Education Curriculum to Incorporate Computing and Multimedia." Co-wrote paper with Dr. Himes, presented at national conference. Association for Technology in Music Instruction (ATMI), Quebec City, Canada (2005).
Professional Development
Intensive Pro Tools Certification Training on TDM and LE systems taking Digidesign certification courses: 101, 201, 210M, and 210P. Passed examination and certified as Pro Tools Operator (2003)
---
Support Volume 3 - Audio Production and Promotion
Composition and Production of Original Music

Index of Creative Work of Robert Willey. Links to compositions, programmable instruments, recordings, web sites, books, and papers.

CDs

Internet Promotion of Original Work

robertwilley.com Promoting original compositions and recording projects
Podcast performances of original compositions / recordings. Includes performances in Minnesota, California, Tennessee, the Netherlands, Israel, Canada, and Japan.
---
Support Volume 4 - DVD Production
---
Support Volumes 5 & 6 - Service
---
Student Work
In order to honor our agreements with the artists, the performers are not listed on this temporary YouTube channel, in order to reduce access from searching by the general public.
Index to Student Classwork
Digital Spice
Digital Spice is a DVD showcase highlighting projects from students in the Music Media division during the 2005-6 academic year. It was funded by an instructional improvement grant.


Nathan William Jr. recorded at Zydeco Festival in Plaisance, produced by Joe Payne.


Weather the Storm recorded at Festivals Acadiens et Créole, produced by Wallace Lafont


The Louisiana Creole Fiddle Method, co-written with D'Jalma Garnier, published by Mel Bay.
---
Live From The Blue Moon
Another instructional improvement grant allowed music media students to record a band made up of ULL students at the Dockside Studio, the premiere professional facility in our area. Chris Stafford, one of the leaders, took four Music Media classes. A promotional DVD entitled Live From The Blue Moon was made for the group combining the two songs we recorded, along with interviews and concert recordings recorded by the students at the Blue Moon Saloon and Festivals Acadienes et Créoles. Tracks from one of the songs we recorded, Les jours sont longs, were incoporated into the CD En couleurs, and finished by engineer Ivan Klisanin (who was a Music Media major, MM Theory/Comp student, and Graduate Assistant), a critically well-received album released in 2010, which was nominated for a Grammy Award for Best Cajun and Zydeco album.

Musc Media students' DVD production of one of two songs recorded at Dockside Studio. Assited by Chris Stafford and Keith Stewart.
---
From La La to Zydeco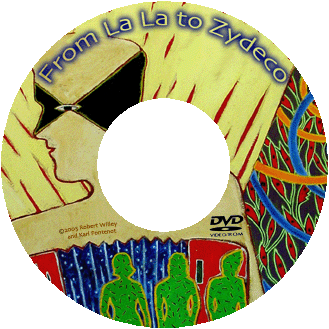 The Acadiana Arts Council, Lafayette Consolidated Government, Friends of the Humanities, Center for Culture and Eco-Tourism, the College of the Arts, the Lafayette Convention & Visitors Commision, and private donors financed the DVD, From La La to Zydeco. Students helped with the recording and mixing. The disk was published by the Center for Louisiana Studies in 2005 and deposited in libraries throughout the state. Half the songs were recorded by Music Media students at ULL and videotaped by students from SLCC, as we did not have our own video cameras at that time.

Creole band at Festivals Acadiens

Cajun band playing at Downtown Alive
---
Additional Student work not contained on DVD disks

Leading slide guitarist performing at Grant Street.


BeauSoleil, recorded with MUS377 students at KRVS





Marc Broussard recorded at Festival International de Louisiane, produced by Chad Fouquier





French Jazz Group in Angelle Hall, produced by Benjamin Sellers


UL Lafayette Jazz Ensemble in the UL Student Center Ballroom. We regularly record the Jazz Ensemble, and make CDs to provide feedback for its members.


Bluegrass band in Angelle Hall Auditorium, produced by MUS422 class

Chorale Acadiens in Angelle Hall Auditorium

Produced by Music Media and Theory students as an example of Video Direction as an Appliation of the Study of Music Theory


A Little Shorter, by Garth Alper, performed by Faculty Jazz Group in Angelle Hall Auditorium, recorded by MUS422 students, video direction by Kris Wotipka (AOC).





"Sambinho para João" (Joe's Little Samba), by Robert Willey, performed by Jazz Combo III (directed by R. Willey), recorded by students in MUS376 in School of Music's recording studio.


UL Percussion Ensemble performing gamelan piece in Angelle Hall Auditorium, produced by Joe Payne.
Graduates
Since graduating, students have gone on to produce many recordings of their own. These are difficult to stay up to date on. A sampling:
---
[ Back to top ]
---